Hallstatt- Reason why everyone in love with Hallstatt
I always look for some unique holiday destinations which are not well-known place however it's obvious I cannot miss the places which are famous for Beauty & Nature.
For this reason, I took a chance to witness and make my visit memorable with breathtaking trip to Gosau and the village of Hallstatt – a UNESCO World Heritage.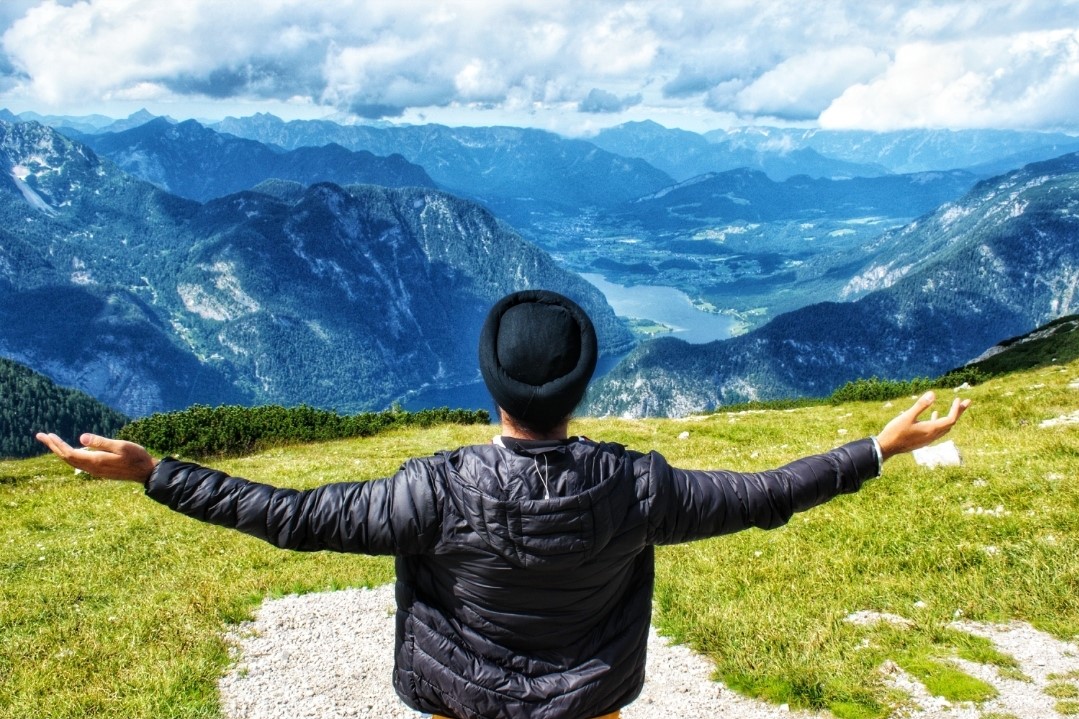 These places are located in the Salzkammergut region of Austria. These places are not far away from Vienna and getting there is super easy as there is direct train from Vienna Hauptbahnhof to Attnang-Puchheim where you then switch to the local REX (similarly like local s-Bahn in Vienna with beautiful view) towards Hallstatt. The total journey is approximately 3 hours 30 minutes.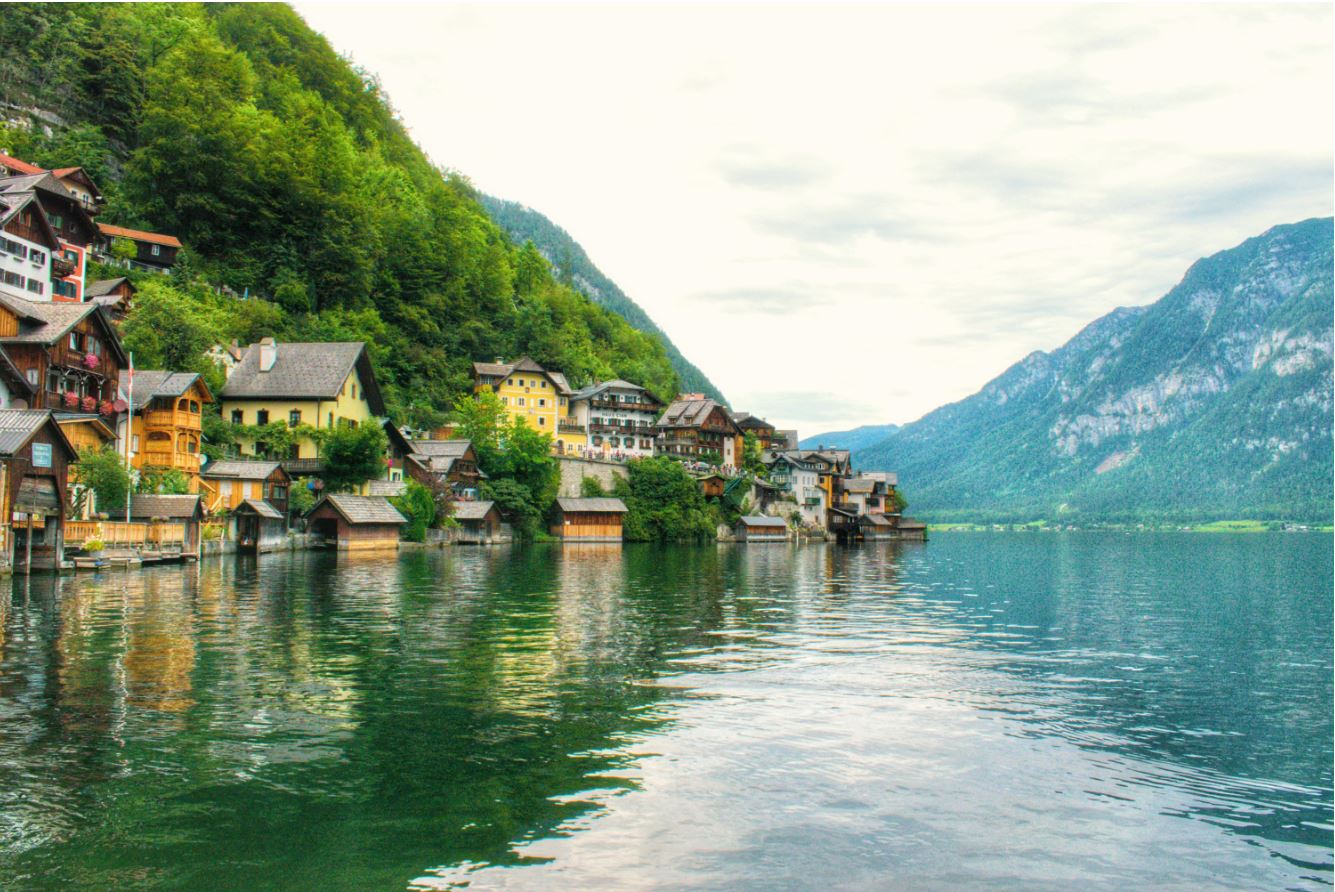 These places have too much to do so please don't rush and spend someday to explore the city including Dachstein, Gosau Lake, Bad Ischl etc. I am sure, you will agree to it & in the end when you read this article you cannot rheostat yourself to fall in Love with Hallstatt.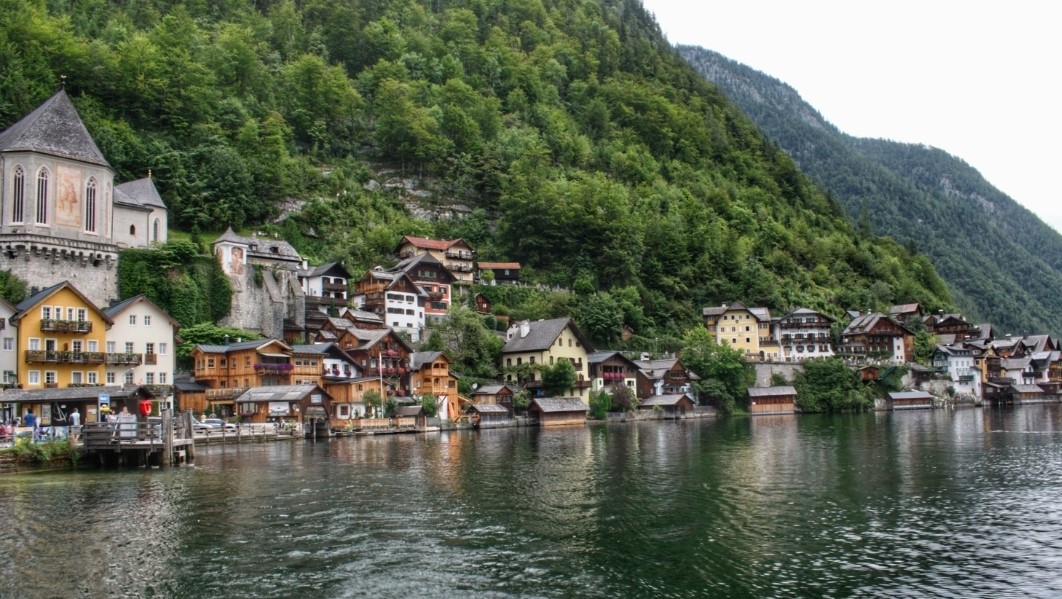 I found Airbnb a good option to book a stay and after a lot of research I found an apartment with an amazing view i.e. Vital Hotel in Gosau.  If you are a first timer in Airbnb then I would request to click on this link to complete the process to get the discount both ways.
As others good hotel, staff at Vital Hotel were very friendly and welcoming and it was a good stay. I stayed there for two nights –It was so peaceful and scenery.
Gosau is a small tiny town located in south of Bad Ischl in the Salzkammergut. There was a main reason to stay here due to its scenic surroundings.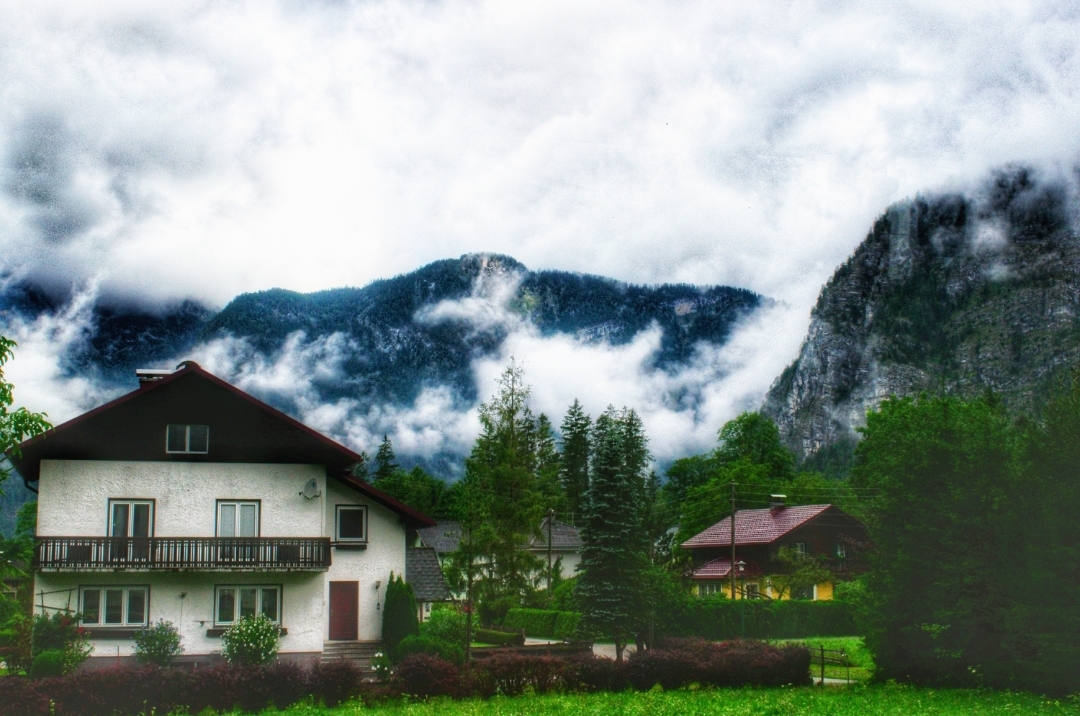 Getting Here: Bus 543 from Hallstatt with transfer to Bus 542 at Hallstatt Gosaumühle which will take 15-20 minutes to the Gosau; last ride is at 18:16 so please plan your trip accordingly.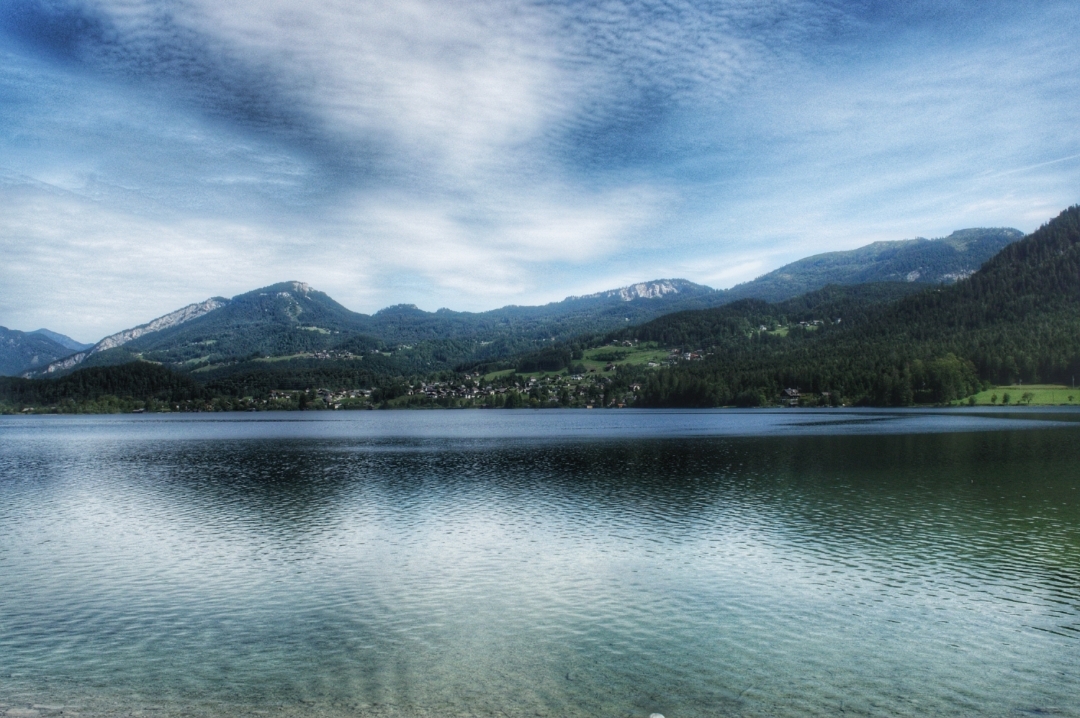 If you are traveling from Salzburg then catch the bus 150 until bad Ischl & switch to Bus 542 directly which will drop you right to the lake of Gosau in approximate 30 minutes. A simply you can do the reverse if you plan to visit Hallstatt from Gosau. Self-drive on this way is one of the amazing drives as you will passes through forests and through the mountains.
Before I go any further, let me tell you that I don't like hiking but I cannot miss great views even if I need to walk for a couple of hours.
Tipp: If you are traveling with child then be aware there is lot of walking involve if you plan for Dachstein. 
Dachstein Krippenstein: 
I started my day with ''All-in-One'' ticket at Dachstein Krippenstein where I had explored the Mammut & Ice cave.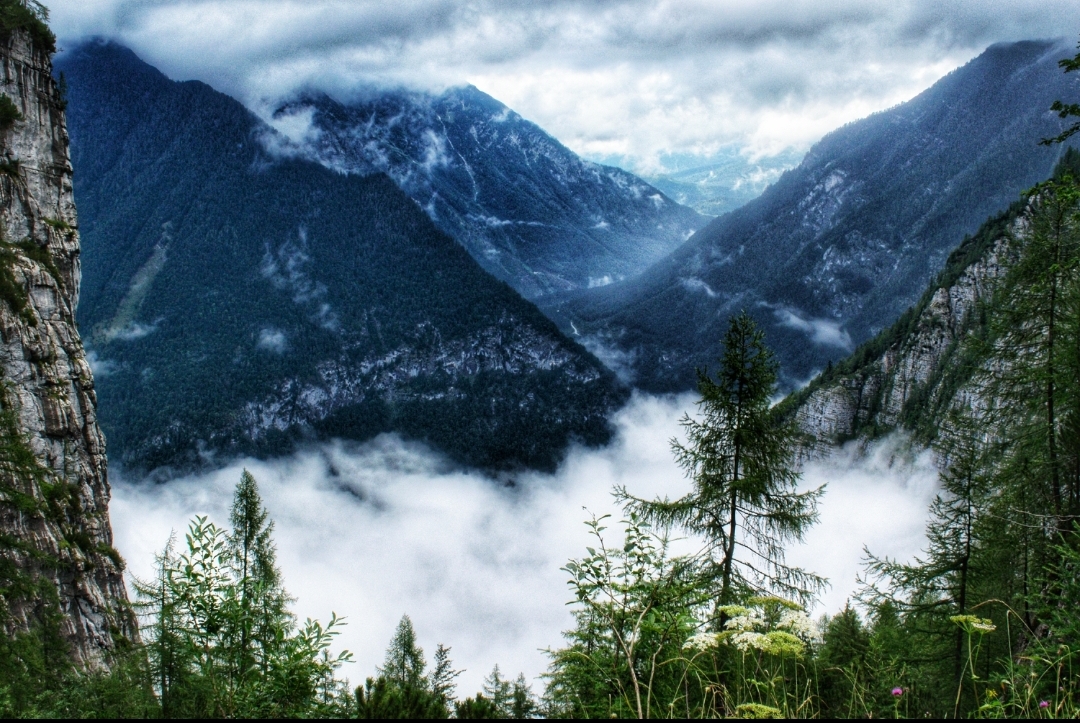 Mammut Cave:
Getting Here: Bus 543 direction towards Obertraun Dachsteinseilbahn Talstation from Hallstatt Römische in 20 minutes to the Dachstein Visitor Center; there ride up to the cable car gondola to the 1st station.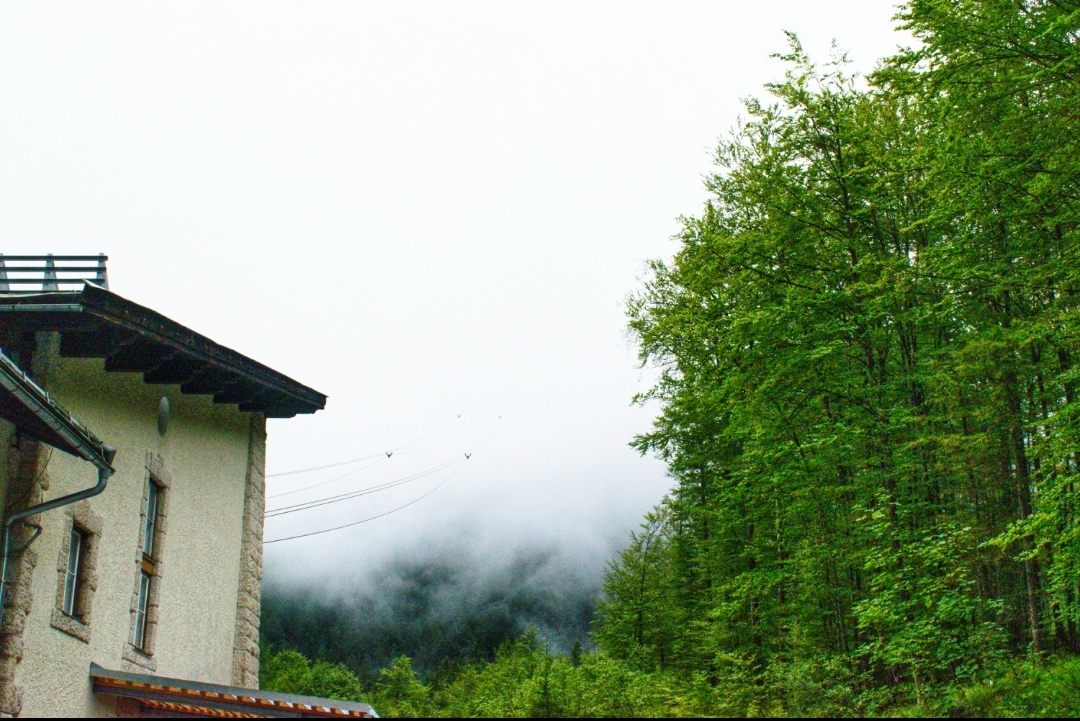 Closed In Winter: The Mammut Caves are closed for Winter each November until May.
I have started at middle station Schönbergalm (section I) for the Giant Mammut Cave which includes approximately 15 to 20 minutes walking toward cave entrance and then approximately 800 steps with few stairs on your way. You will be given the tour number at starting point and free guided tour is for 50 minutes with temperature of +3 °C (37,4 °F).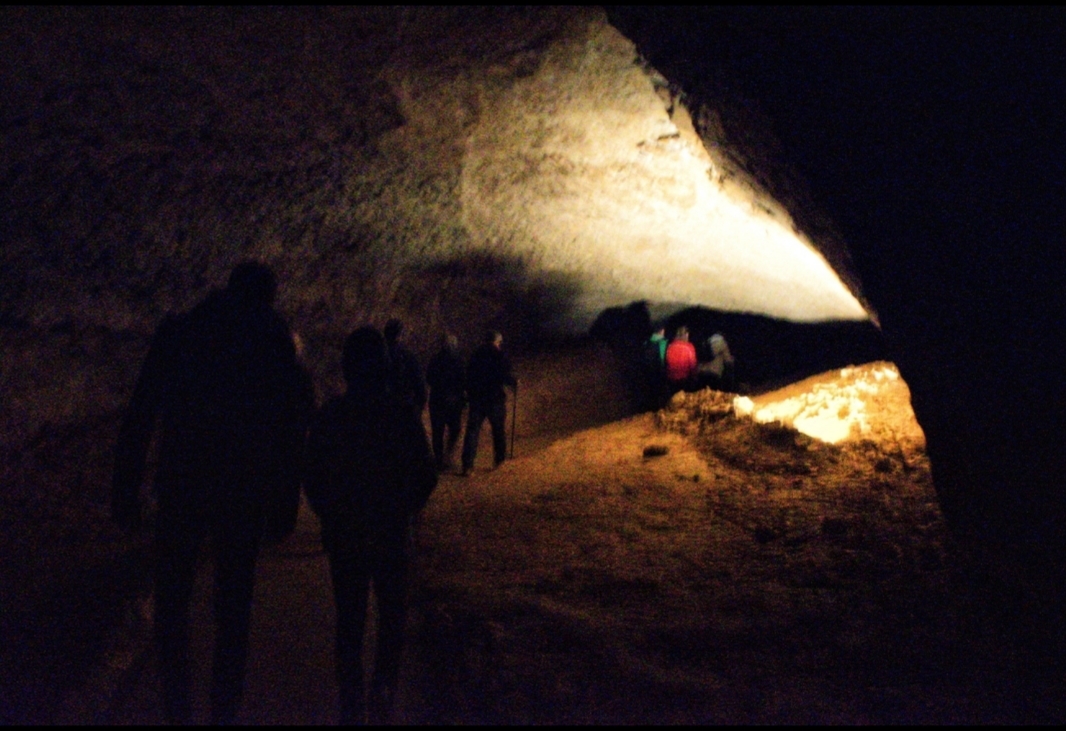 This name ''Mammut Cave'' was chosen by explorers due to the surprizing dimensions of the underground spaces and passageways contained within this cave system. At present around 1 km of passageways can be seen through free guided tour wherein more than 70 km of these passageways have been explored.
Children accessibility to the cave? You will be amazed to see the fantastic infrastructure of the Mammut Cave. It is perfect for visits with kids of any age. 
Note: Warm clothing and comfortable sports shoes! This cave can be visited with only with a trained guide. I recommend that you wear comfortable shoes and warm clothing. Temperatures in the cave will be approximately of +3 °C (37,4 °F) throughout the tour.
After this I headed toward to my favourite ''ICE CAVE''
Giant Ice Cave:
Ice cave is also located at middle station Schönbergalm (section I) which includes another approximately 15 to 20 minutes steep walking toward cave entrance and then nearly 500 steps with few stairs on your way. You will be given the tour number again at starting point and free guided tour is for another 50 minutes with this time temperature of -2 °C (26,6 °F).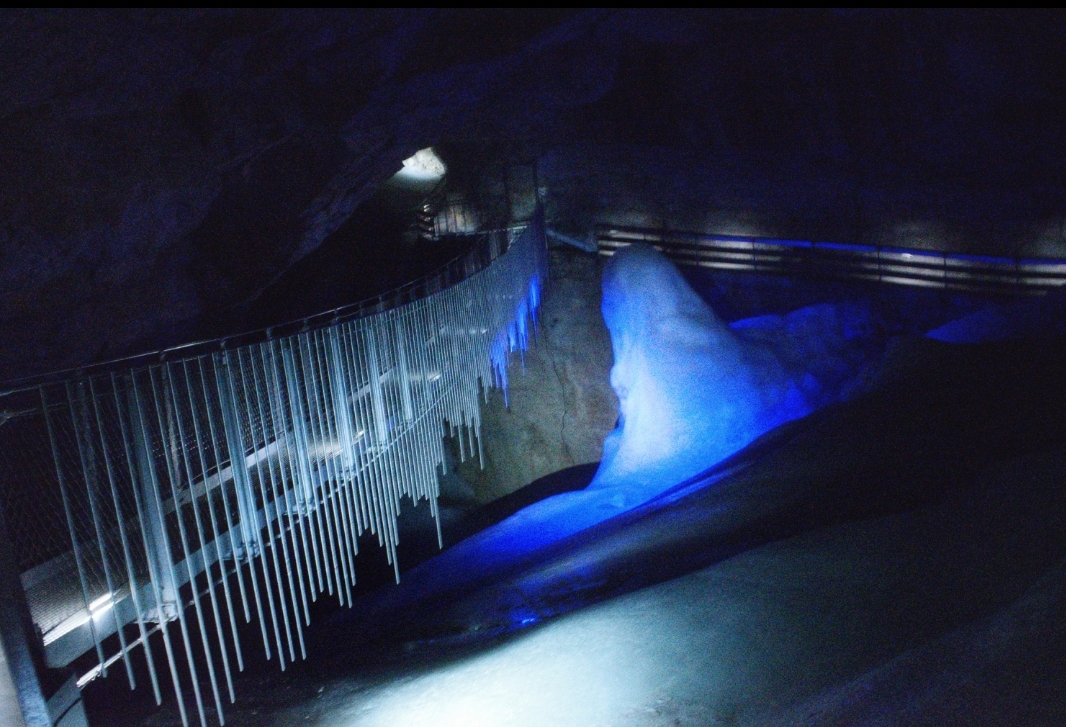 I can give you assurance that you will never regret as it had Remarkable impression. This tour includes the cave bears, rope bridge and in the end light & sound show. While walking all of a sudden you hear roaring of ''Ben & Boris'' on the other side ice revealed in every colour.
The bad part is that due to global warming Giant Ice size is not increasing however it has been well maintained so that actual size does not decrease. So, hurry up and visit this place before it's gets disappear.
Children accessibility to the cave? Beaware of cold enviourment inside otherwise infrastructure is brilliant as like Mammut Cave. 
 Note: Warm clothing and non-slippery shoes! This cave can be visited with only with a trained guide. I recommend that you wear comfortable shoes and warm clothing. Temperatures in the cave will be approximately of -2 °C (26,6 °F) throughout the tour.
I was so tired and after these two memorable cave visit, I was in a favour of taking a break but when I saw there is another ride in cable car for astonishing view with which your heart can faint then I decided to ride up the cable car gondola to the 2nd station to 5 Finger lookout point.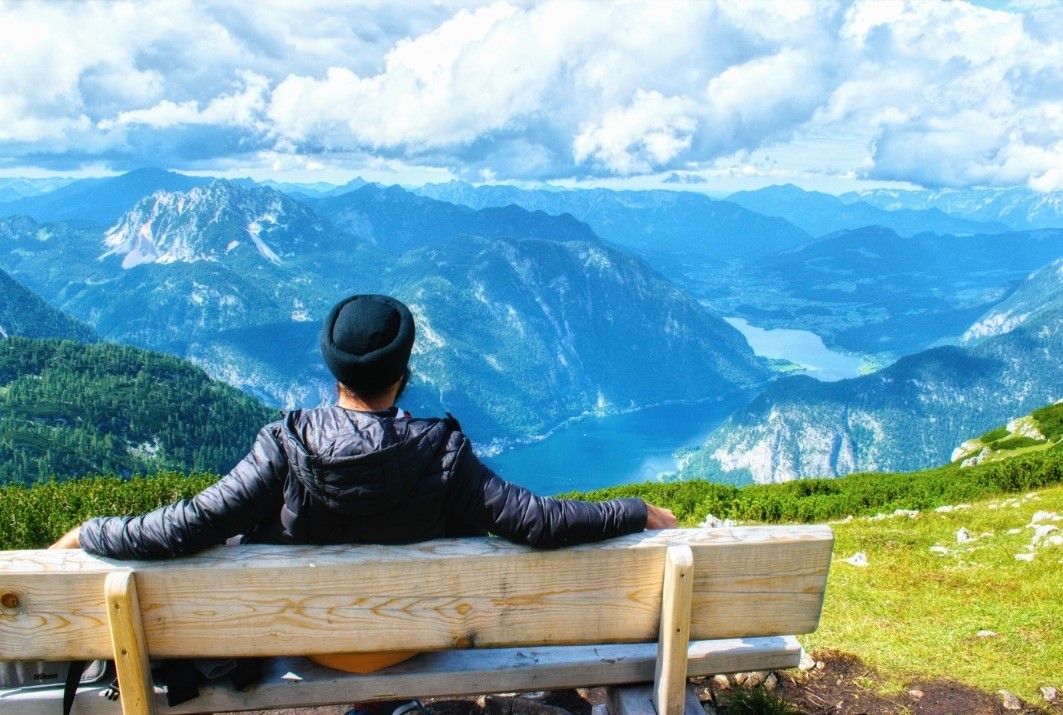 5 Fingers Lookout Point:
This point at station Schönbergalm (section II) which includes another approximately 25 to 30 minutes' walk toward for most spectacular top view.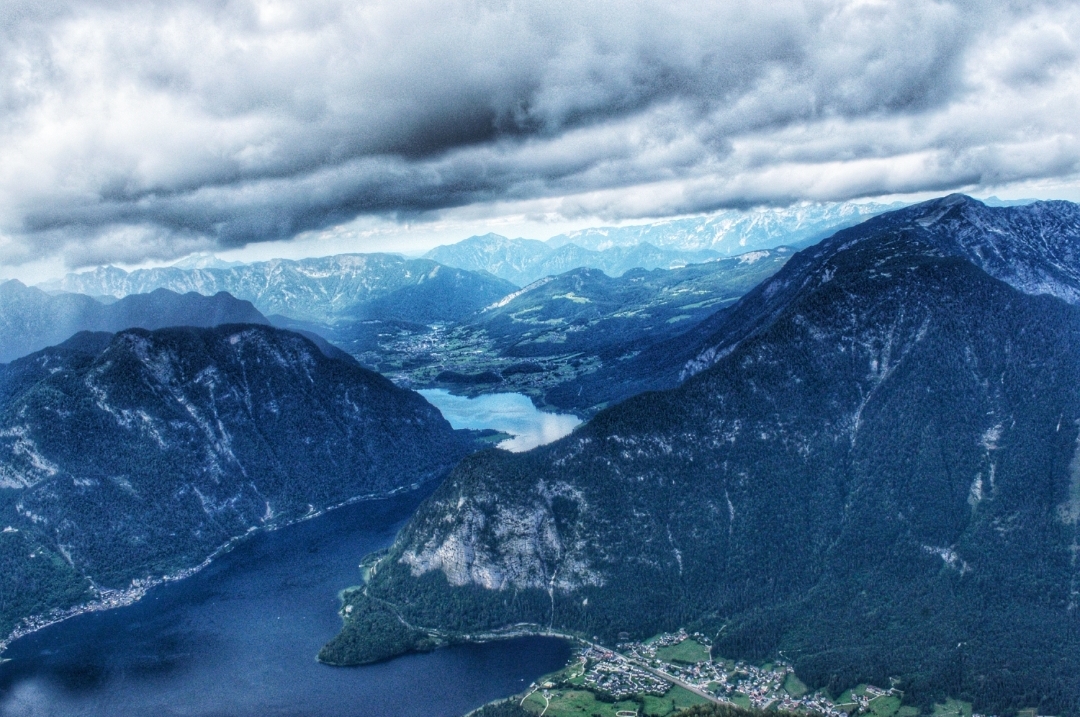 Conditions in The Winter: This place is usually open in the Winter but in heavy snow you will have to do cross-country ski to the lookout area from the cable car station and obviously it will require proper cold weather clothing.
I had started morning of my last day in the heart of Hallstatt Village.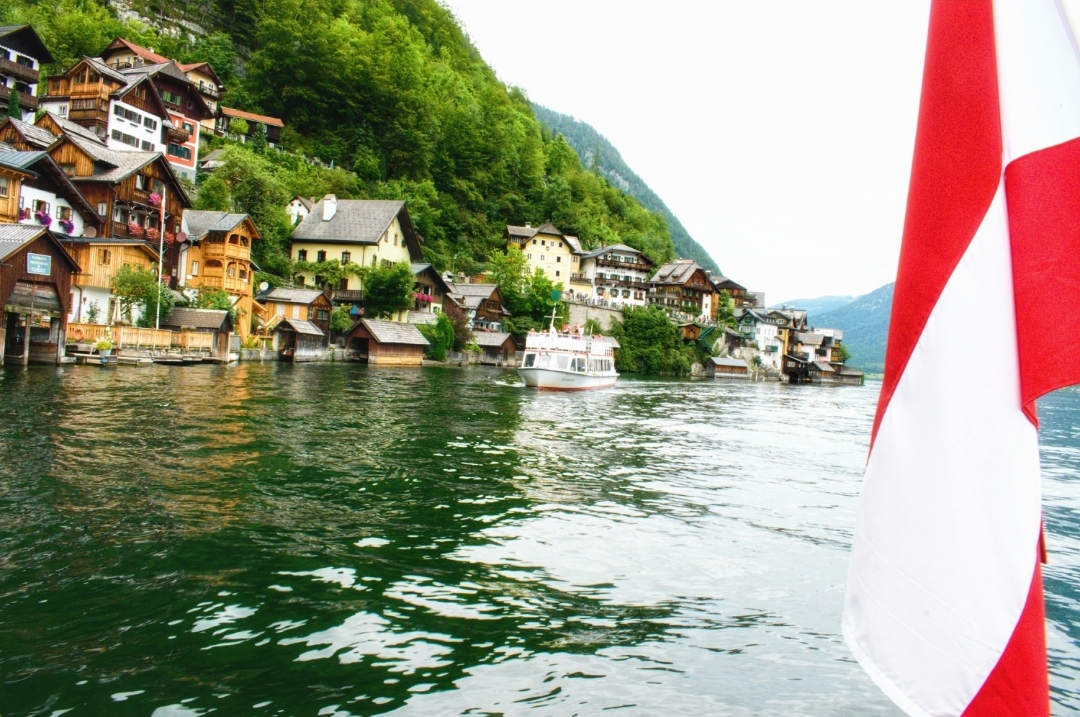 Lake Hallstatt:
Final good bye to Gosau and moved towards main place i.e. Hallstatt – the main reason I travelled for.
I must say this is spectacular & beautiful village across the lake.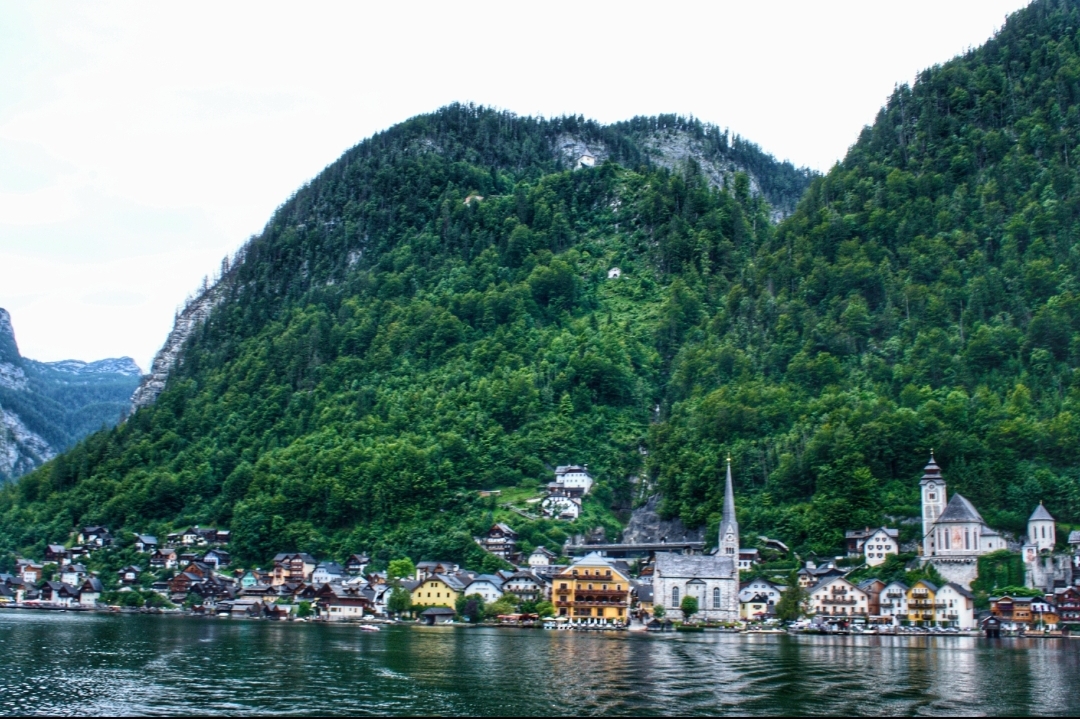 Things to do in Hallstatt
Sit & stroll across the Lake Hallstatt:
Lakeside stroll is one of the most delightful part of my visit.  When you walk along the Lake Hallstatt, you will notice how village's houses cling to the cliffside of the Mountain.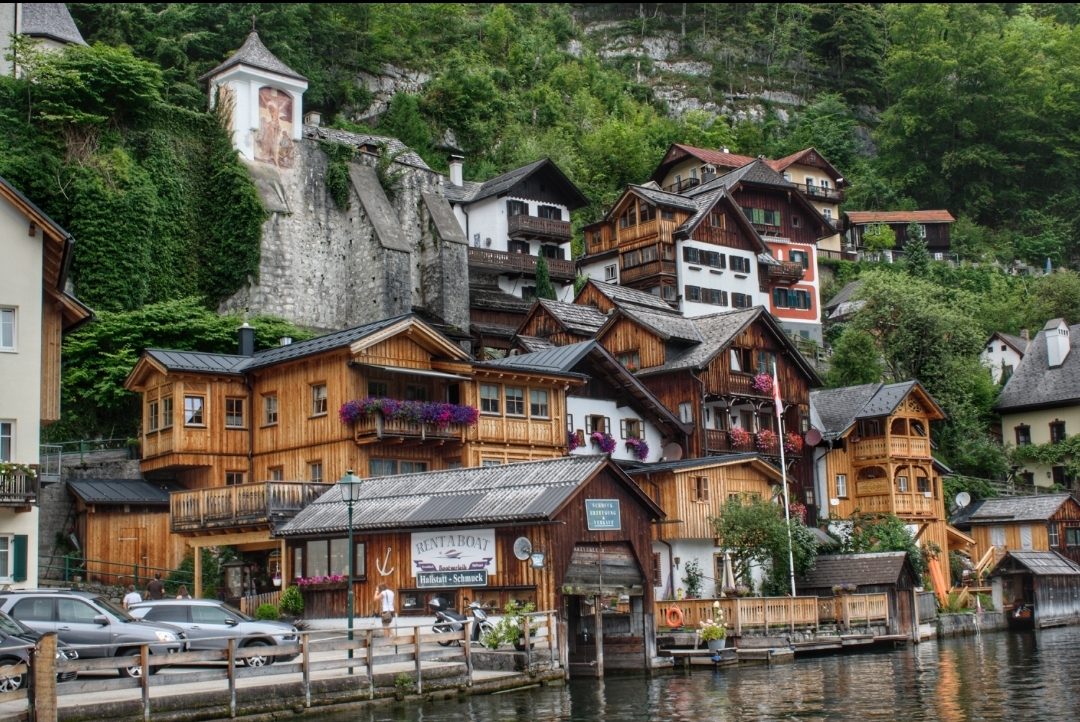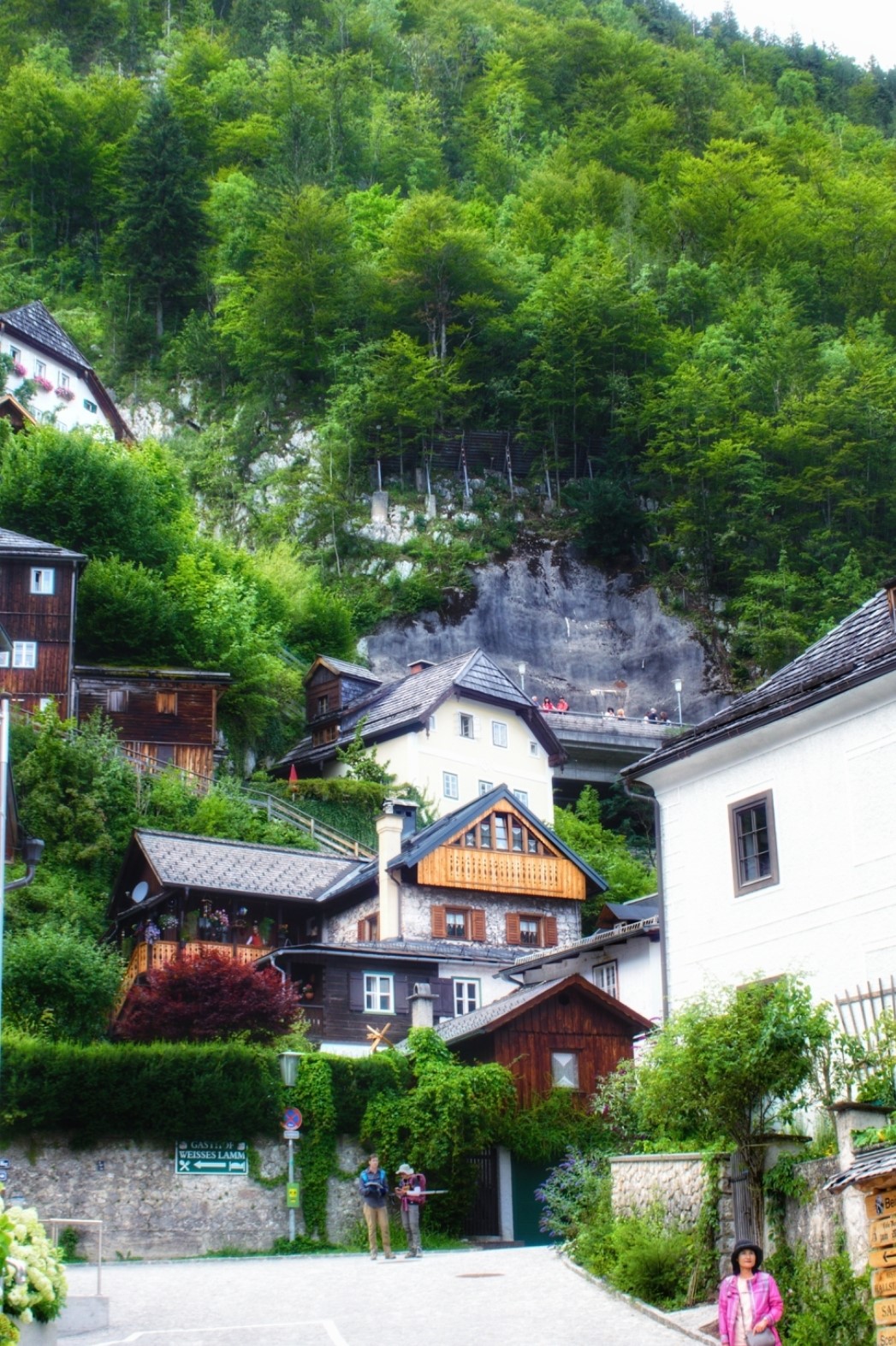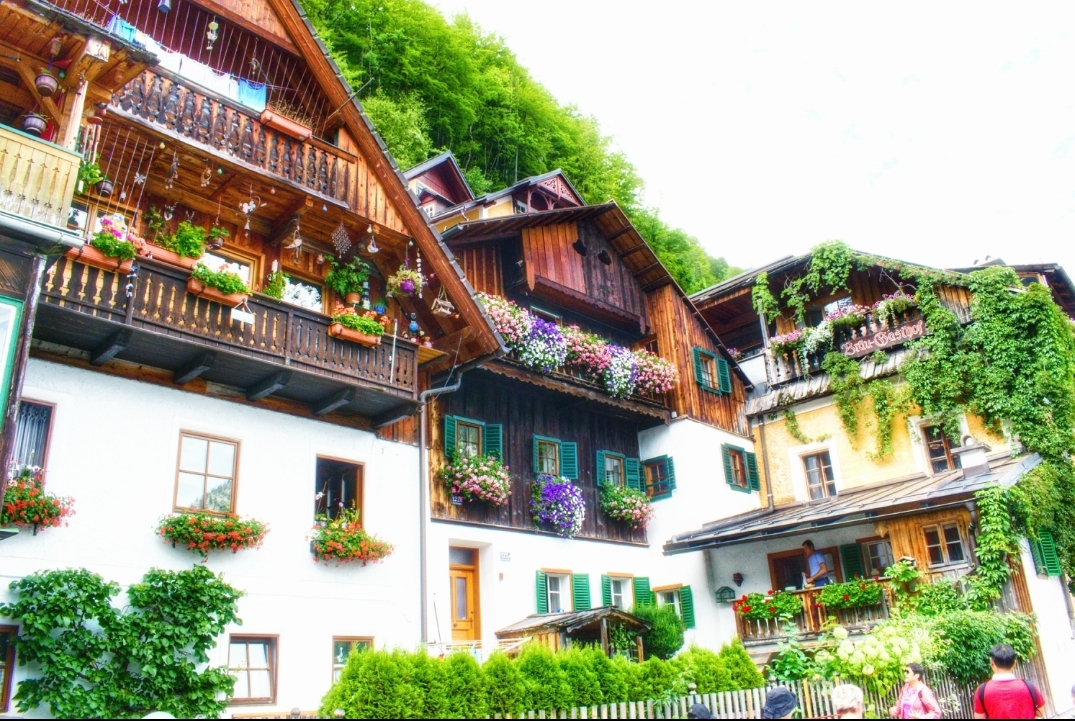 Memorable Trip In Boat:
Apart from Stefanie Ferry route (€ 3 paid in August 2019) which runs 365 days a year (website)which goes around trip once in a hour from train station to village and vice versa I recommend to hire another boat trip to take the quick glance of lake to see the beautiful village. I love the tour boat company on Lake Hallstatt called Navia (website) which uses traditionally crafted wooden salt boats. They are so good and will also greet you as ''Namaste'' and this is the only place where I found display in HINDI. Please reserve your place in advance via online as Navia has daily tours April through late October.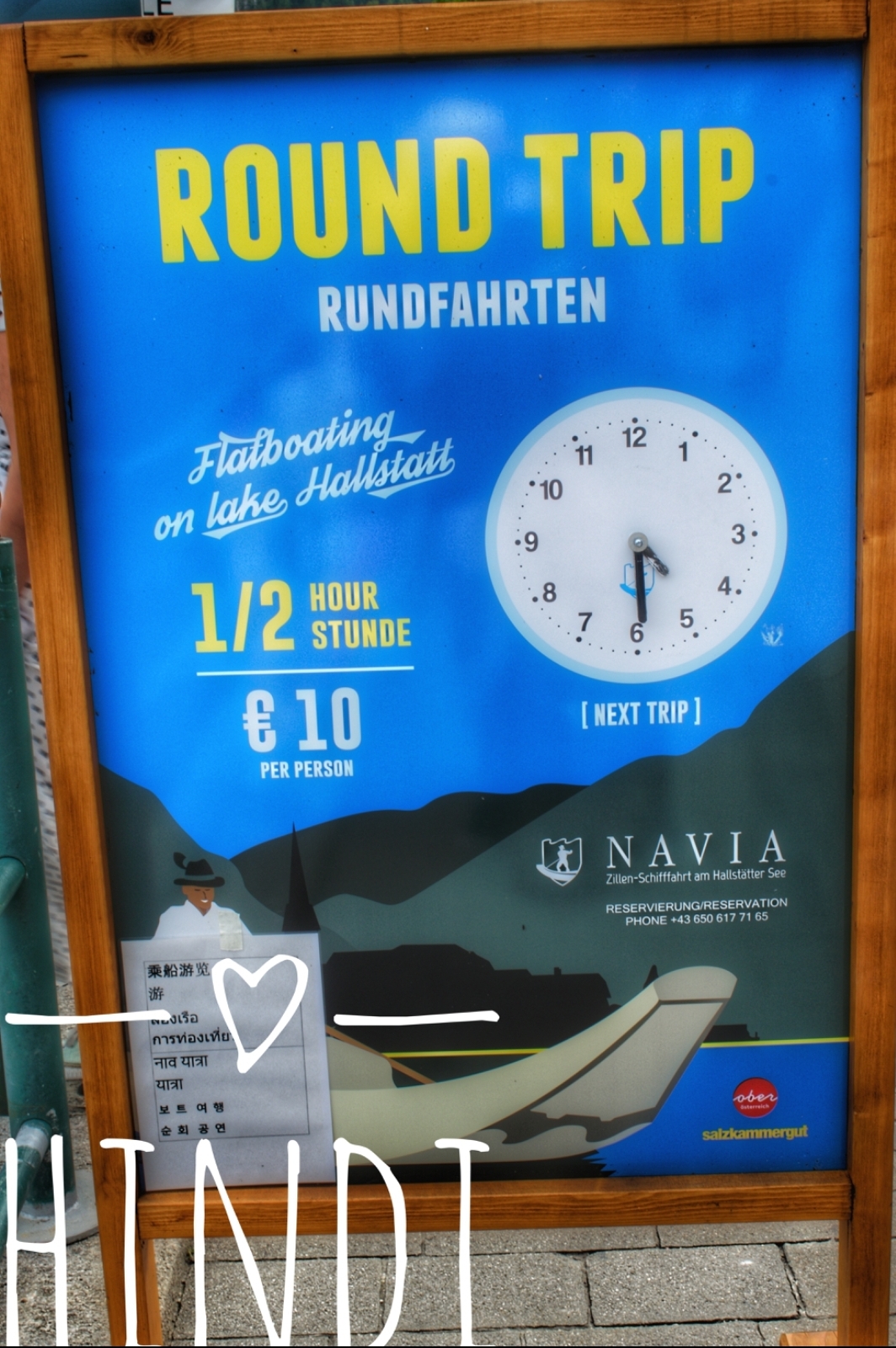 Funicular Ride:
Yes, this small town also has the Funicular like other major cities and this ride will take you on the mountain.  On top, you can visit the salt mine or the Rudolfstrum restaurant, which has a panoramic terrace overlooking the lake. Do not miss the 'World Heritage Skywalk' – a WOOOOW view platform, from the mountain 350 metres above Hallstatt.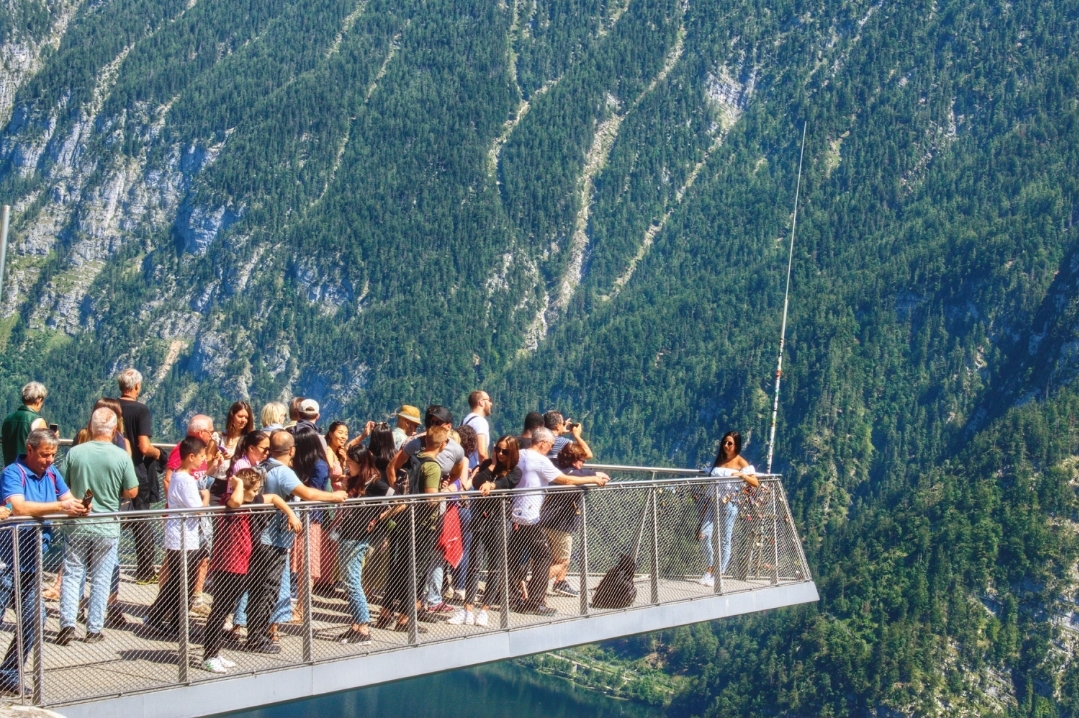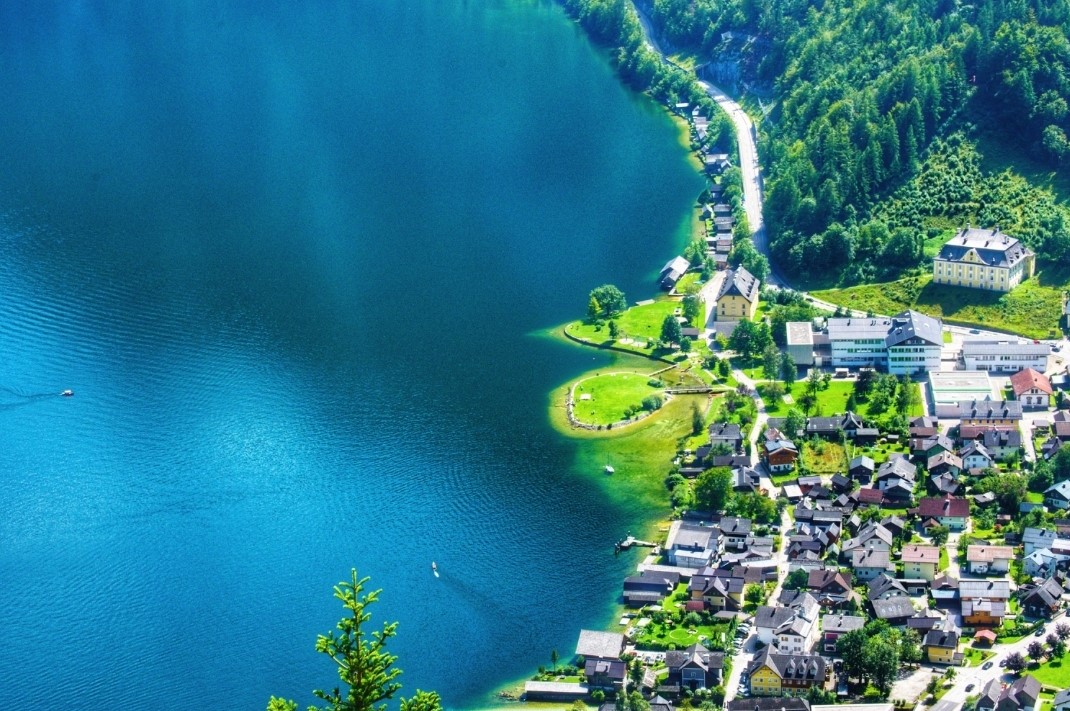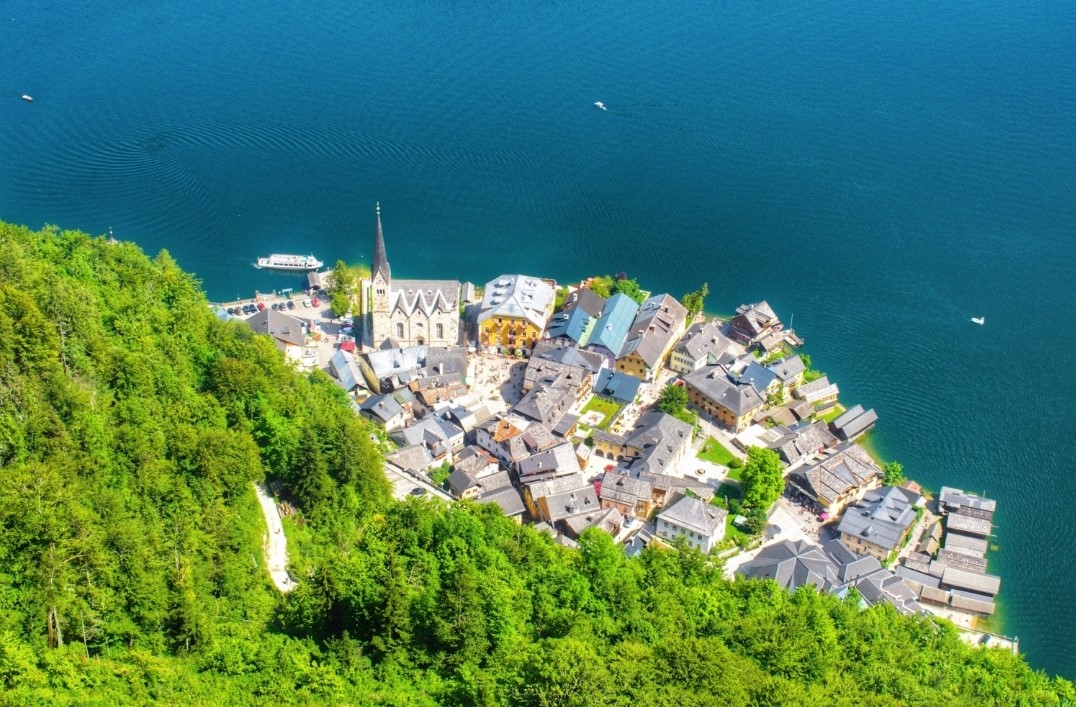 Visit to Hallstatt Salt Mine (Salzwelten):
If you are not interested to see world oldest salt mine and Europe's oldest wooden staircase then buy a ticket only to go up and enjoy the surrounding and come back in just € 18 per person.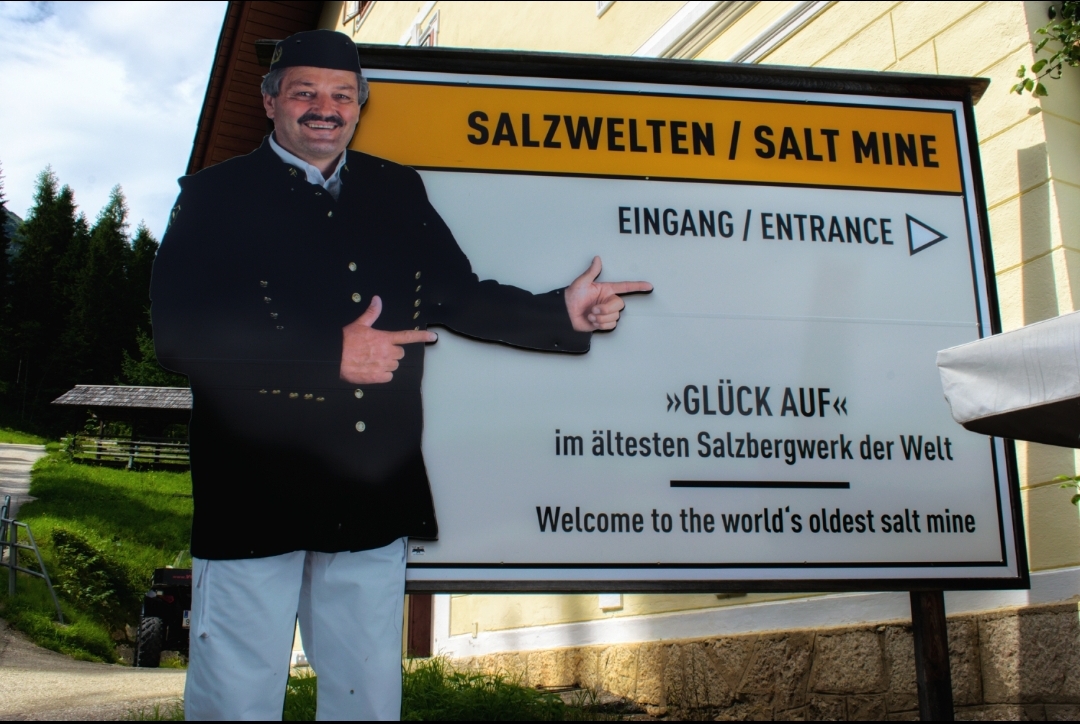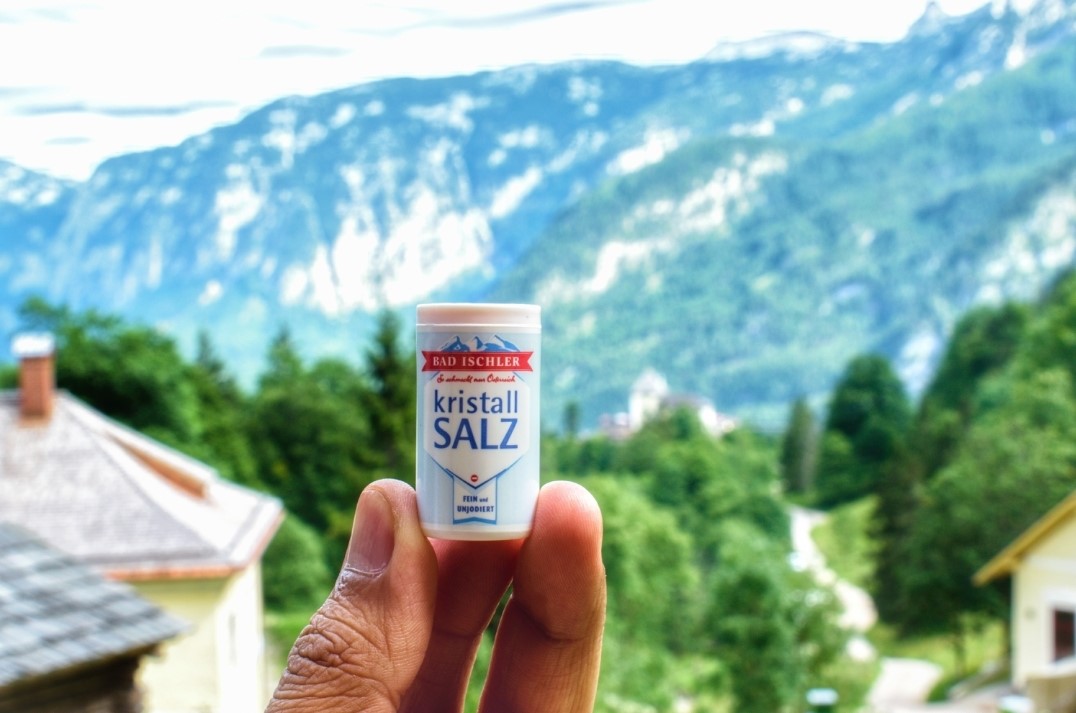 Visit to restaurant and Sky walk is included in this ticket however if you want to go back 7,000 years ago and would like to explore and understand the history of Bronze Age mining then begin with salt mining tour. You won't miss the opportunity to see the multimedia technology including a Bronze Age Cinema 400 meters below ground.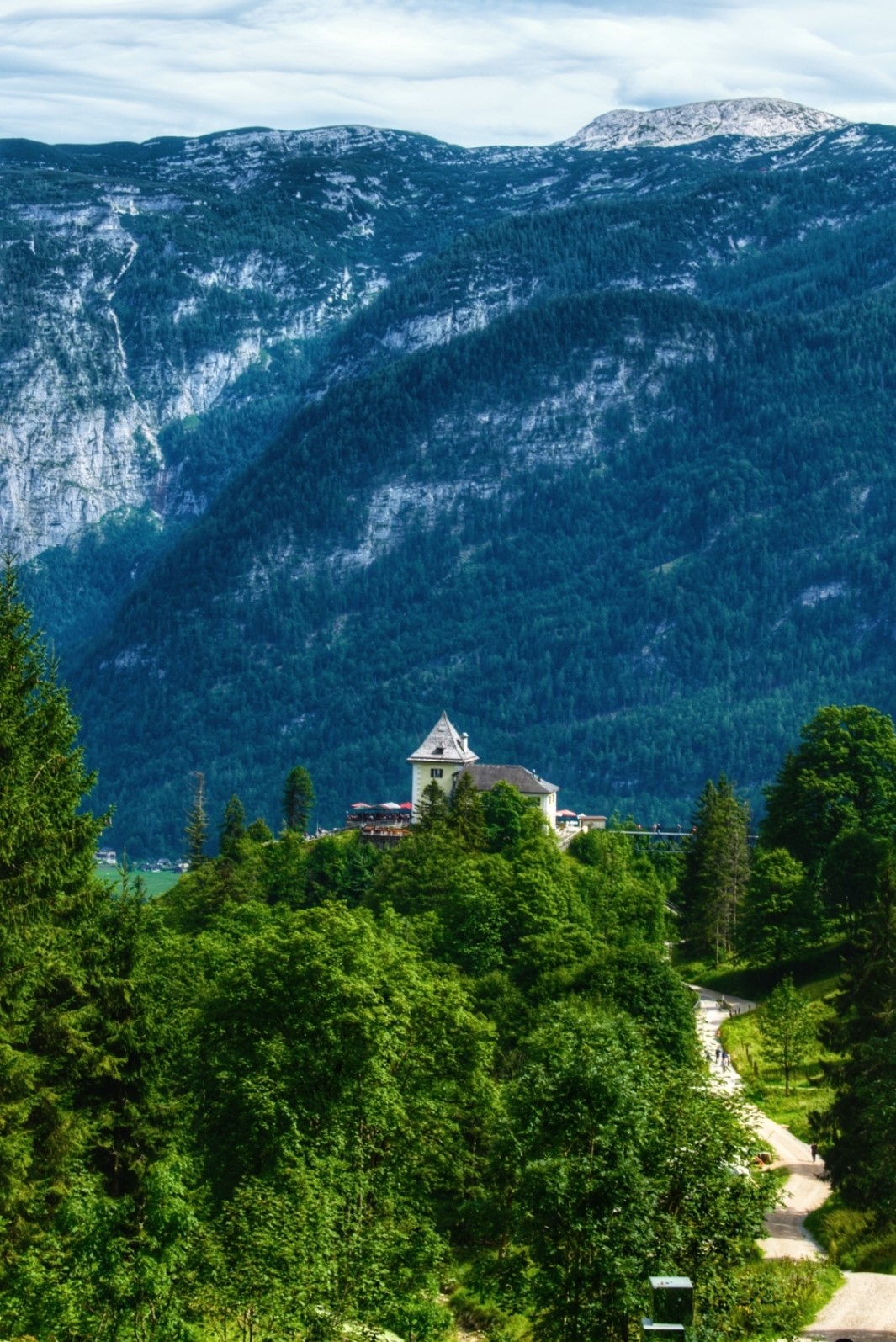 Closed in Winter: The Salt Mine is closed in Winter.
A Woow view of Skywalk:
A bridge hanging approximately 1150 feet over the edge of the cliff i.e. The Skywalk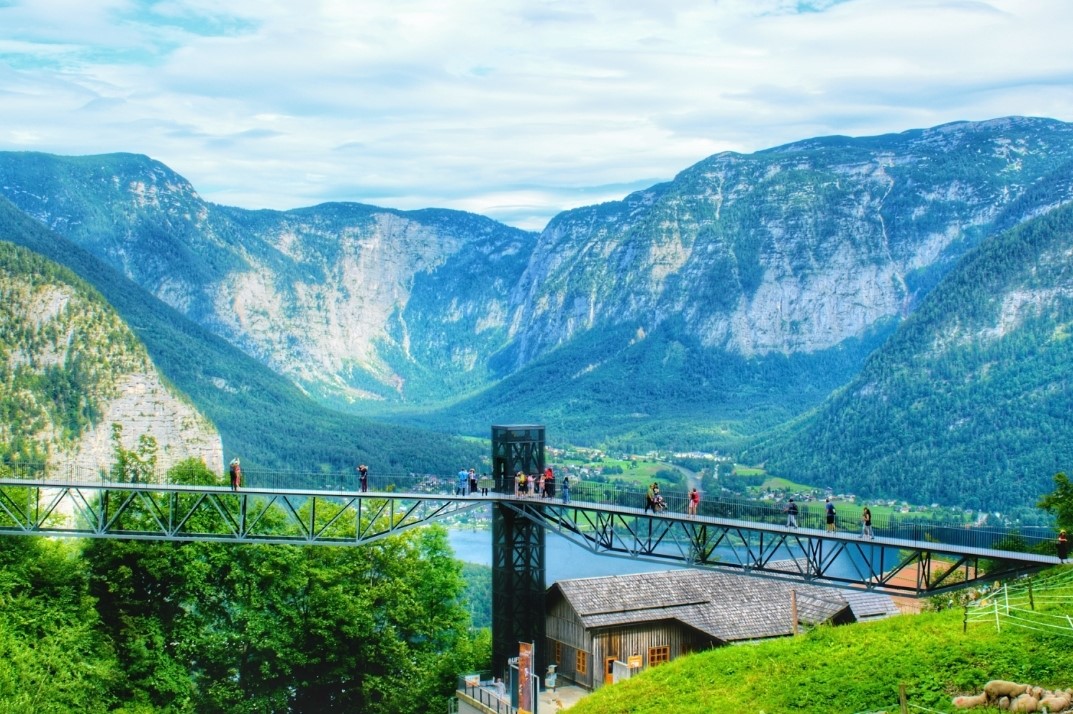 You will experience wherein you are exactly flying over the rooftops of the village. This is really one of the top things to do in Hallstatt. Don't miss the Ice cream with the view, I wanted to try something different so took Bubble-gum flavour this time.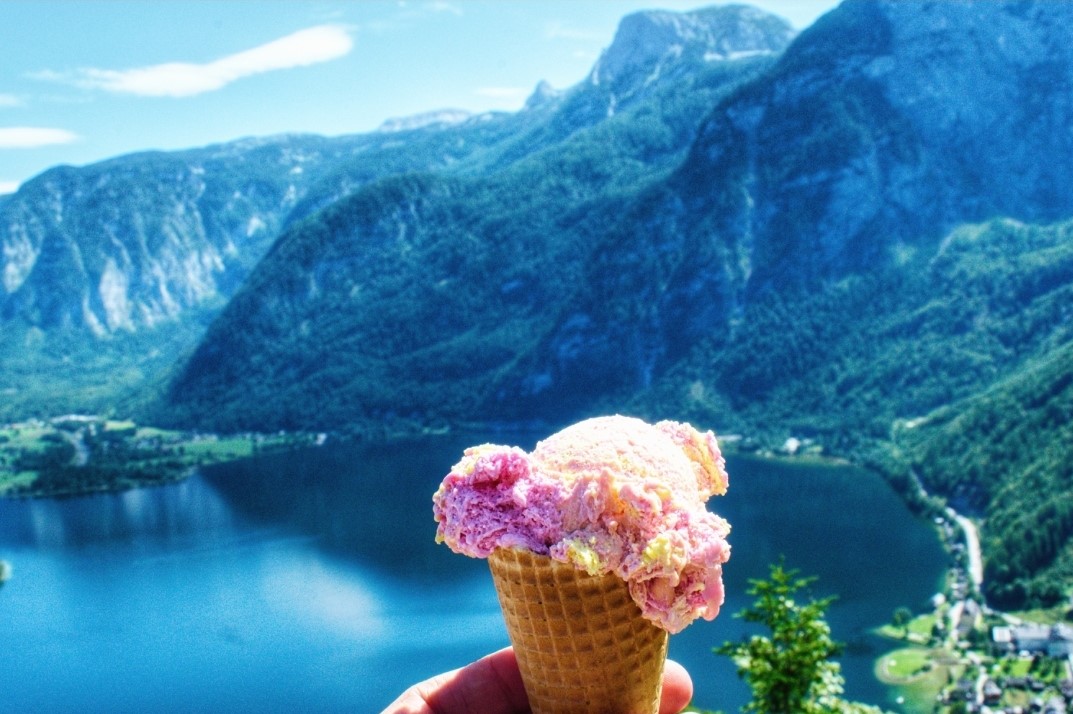 Hallstatt Market Square (Marktplatz):
Would highly recommend to spend sometime in the center of Old Town Hallstatt.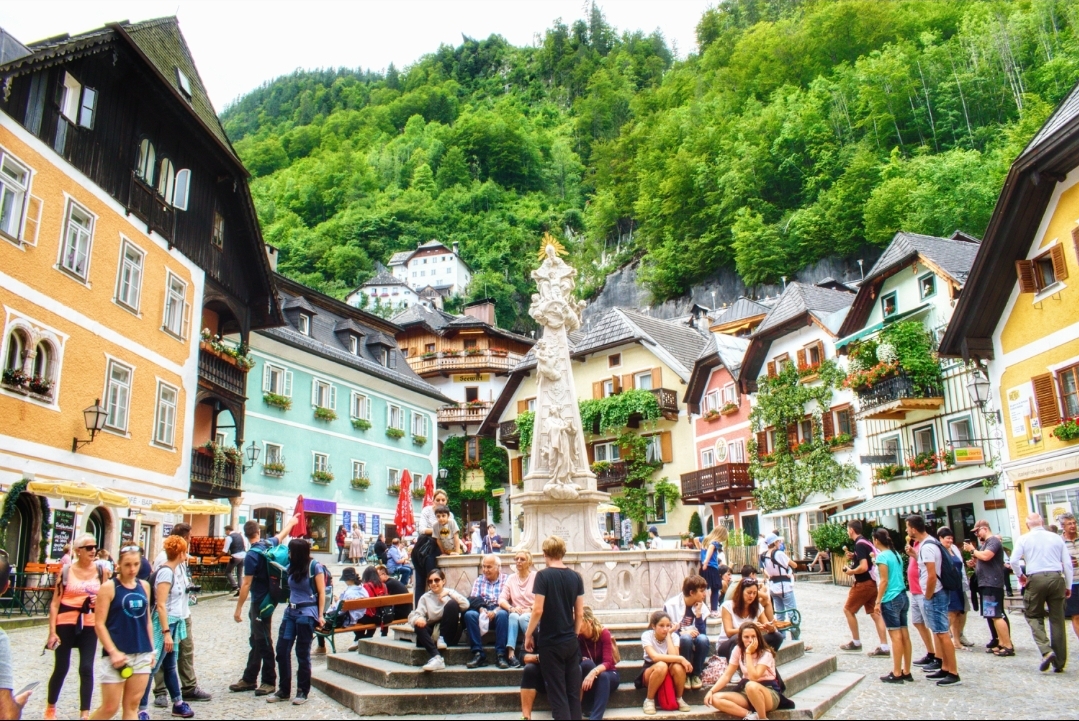 Must Try Food:
A Fish-Do not miss the grilled fish dish in Hallstatt. You can have this at any of the lakeside restaurants. You might can get this from locals along the lake who will also offer to cook you fish, so definitely try it.
Try Schaumrollen which resemble like Cream roll which costs you € 2,50 and it's so yummy like Austrian desserts.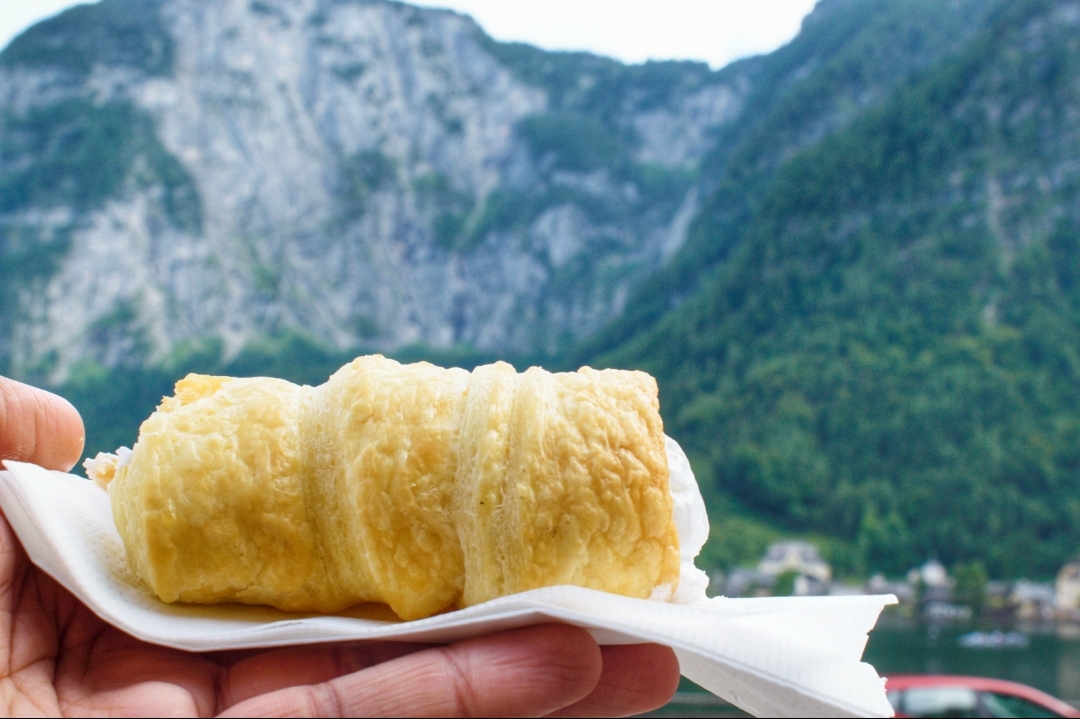 Luggage Storage:
Hallstatt has many options for luggage storage, Hallstatt Tourism office can keep the luggage as per request and space availability for € 5 per luggage. They cannot keep it longer than 5'o clock so please plan your visit accordingly. They are located right next to the main Hallstatt Lahn bus stop on the South side of town.
There are few cafés in the town who also offer this service you just need to check out that. I kept my luggage in Salt mine visitor centre and there are plenty bag lockers including few Large lockers (90x35x85 cm) and few small lockers (45x35x85 cm).  I used the small locker which costs €2.
Final thoughts on Hallstatt:
Well, this place is indeed beautiful as it's picture and this is not the place to miss if you are in Austria as you cannot miss Schönbrunn in Austria capital, Vienna.  
Please be prepared with meeting hundreds of people in Hallstatt street, you will see in every hour hundreds of people are coming & going back from 9 to 5 during the day. Most of the tourist comes from China as Chinese built the similar village in China. Hallstatt is a housing development in Luoyang, Boluo County in China and they just in love with the original town like others.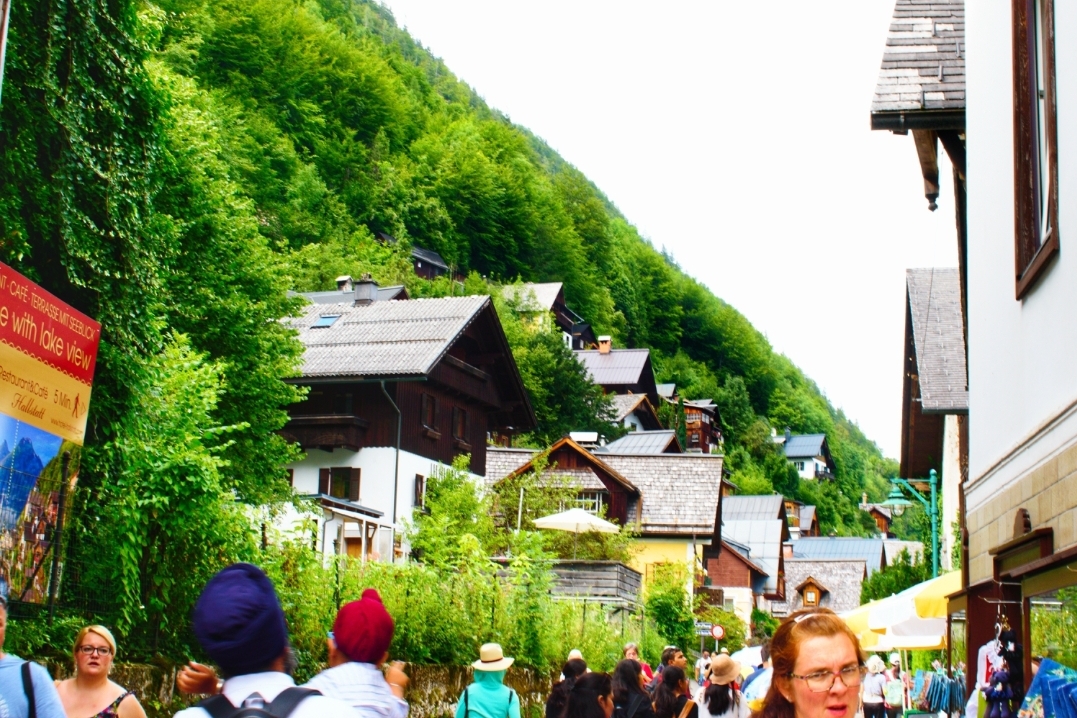 If you want to explore this town as a ghost town then stay there for a night and see what happens after 6pm when the last ferry goes back with full of peoples. However, most of the cafés & restaurants start getting close due to less tourist and you have left with limited options for entertainment and dining.
I will definitely return to this place next year to check out the winter beauty of the town.
Have you also visited such locations or Hallstatt & Gosau? Write me in comments.